By
Professional Training Program
Clinical Somatic Education
Professional Training Program
2012-2014
Starts September 15, 2012
 -- New York City Campus --
First Time Ever in New York!!!
Somatic Systems Institute, New York City, New York
Somatic Systems Institute is pleased to announce that we are offering opening a brand new campus for the

Clinical Somatic Education Professional Training Program

, in NEW YORK CITY!



Not only are we excited that we now offer three training campuses instead of just one (after opening our Minnesota training program last January), but this is the first time Clinical Somatics training has ever been available anywhere in New York.  



This unique training program

starts Saturday, September 15, 2012

.

Click here to learn more:
  · http://somatics.org/training
Or call us and we'll happy to assist you, (877) 586-2555.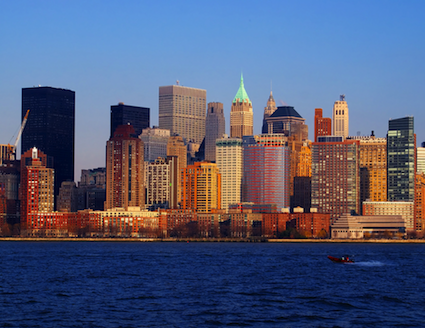 For over 25 Years, the work of Dr. Thomas Hanna has been helping Body Workers, Physical Therapists, Chiropractors and Physicians unlock the Mind-Body link to pain. This revolutionary health care system incorporates cornerstones of Western medicine along with clinical methods to dramatically improve control over the muscular system and reduce discomfort.
This three-semester, 500-hour class begins with

the

convenient and popular Weekend Training Schedule.  We have only just begun to offer the Weekend Schedule again for the first time in five years, and we don't know how long it will be available.

This Weekend Training program is a unique opportunity. Students complete Semester 1's full 120+ hours in only 4 long weekends -- enabling students to begin working with clients using their first full set of skills starting only one month after they begin. Normally this requires that students participate in a month-long, full-time version of the program.

This Weekend course contains the same curriculum, hours, and faculty as the original format. Students complete their entire training and obtain full certification by attending semesters conveniently distributed over ten to twelve intensive short modules over only a 24-month period.

This is an exciting way for busy professionals to enhance their practices without disruption, and for those new to the field to transition smoothly to a new career. If you have been interested in Clinical Somatic Education before, but could not arrange your schedule to attend the traditional month-long sessions, we encourage you to take a good look at this convenient program.

Click here to learn more:
  · http://somatics.org/training/programs
September 15 - 18, 2012   
Begin your journey to a Somatics career in only 4 days.  You will be amazed at how comfortably and deeply immersed in somatic theory, philosophy, and clinical practice you will be, in such a short time.  You will learn the foundations of postural theory, the principles of Somatics, and a range of clinical methods. 
Weekend 2:
October 18 - 21, 2012  
Students come back eager to pick up where they left off, and they are pleased to fill in the blanks since their first weekend.  You will continue the foundations of postural theory and somatic kinesiology, focusing on the most common causes of back pain and problems and related concerns.  You will go home with routines to begin working with real clients, being able to begin to help 75% or more of the people who come in your door.
December 6 - 9, 2012  
Theory and practice will continue with focus on trauma and injury, helping you to understand and work with the underlying cause of a wide variety of conditions from Scoliosis to Carpal Tunnel Syndrome.  You will go home with routines and approaches to frozen shoulder and joint problems, as well as athletic injuries and athletic performance issues. 
Weekend 4:
January 17- 22, 2013  
Your entire semester of studies will come together in a short time and you will be amazed at how much you have learned in such a short time.  The final module includes theory, postural studies, and protocols for conditions of trauma, anxiety, abuse, injury, and other conditions related to stress reflexes, providing an understanding of issues of poor posture and alignment, knee and foot problems, tension headaches, breathing problems, aging disorders, and TMJ syndrome.  You participate in supervised public clinics for real world experience before starting on your own, and you will go home well-equipped to begin working with a wide range of people in professional settings and to teach group movement classes.
You will graduate from the semester able to work with paying clients right away in a variety of clinical and classroom settings. 
This training program is designed so that anyone -- regardless of prior bodywork experience -- can learn this incredibly effective technique. Our students can begin practicing upon completion of the first semester-- in fact many of our students are transitioning their careers before graduating!
Through comprehensive experiential and academic study of kinesiology, anatomy, neurophysiology, philosophy, functional disorders, teaching principles and educational techniques, our students are often surprised by the mastery of the work and personal transformation that they achieve in such a short time.
In additional to the most effective method of pain relief, neuromuscular healing, flexibility, awareness practice, and athletic performance enhancement available, Somatic Systems Institute also offers stud
ents:
25% discount on most educational products sold on our web site or at any of our retail locations.
Full-time Mentorship program and access to faculty and other support staff year-round throughout the course of your training program and beyond.
Online support tools, such as student-practitioner forums, so you can find Somatics help 24 hours a day, 7 days a week.
Professional Conferences, networking events, optional study groups and practice weekends hosted throughout the year between training modules.  
Group rates for premium insurance specialized just for our industry.  
Discounted membership in ABMP, for access to and affiliation with an international community of bodyworkers & health care practitioners.  
Lifelong friends and community.
With all the increased worldwide interest in Somatics, there has never been a more exciting and opportune time to delve deeper into Somatics or start a career.





If you have any questions about our Professional Training Program or simply to discuss how Somatics can help you get out of pain for good and improve your life, please do not hesitate to call or email!



/span>

For more information, visit

http://somatics.org/training

 

 

 
.....
Read What Our Students are Saying:
Nancy Graham, 
Physical Therapy Assistant, 24 Years, Massage Therapist, Keene, NH:
"

I've been a Physical Therapy Assistant for 24 yrs and a Massage Therapist for 2. This is the first course I've taken where I was able to and expected to apply the knowledge and techniques I was learning on the instructors. As a result it's totally changed the way I've approached working with my clients. I can actually go out feeling solid and comfortable working on people right away, rather than wondering if I'm applying the techniques properly."
Paul Hayman
, 
Engineer and Pain Management Clinic Manager, Rapid City, SD:
"[Since returning from my very first module of the Clinical Somatic Education Training Program,] I've done about 10 protocols this first week. Reactions have ranged from moderately pleasant surprise to unrestrained elation. I've done it on two ladies with significant chronic pain and they danced around shaking their hips (one said she hasn't been able to do that since 1991). I'm looking forward to [the next module in] January. We have a great class and it will be fun to help everyone else develop into world-class practitioners."
Patrick Flanagan,
Biotechnology Researcher, Upton, MA:
"The Somatic Systems Institute Clinical Somatic Education professional training program was an unbelievable experience. I was amazed at the unbelievable sense of freedom I experienced in my own body after only the first 9-day module. It was fascinating to experience even my thoughts shifting to a greater sense of freedom and feeling open to solutions and avenues that I didn't even see before. I don't know if I could ever fully explain this - everyone just needs to experience it for themselves. Looking back, it feels like I was living my life with my emergency brake on before this training.

From a professional standpoint, the training module was excellent. I left with a solid foundation of understanding the basis for the work of Clinical Somatic Education and complete confidence in performing a Clinical Somatics session with a client. I completely recommend this course to anyone looking to improve their own lives and those looking to help others improve the quality of their lives."
M.V., 
Yoga Teacher, Louisiana:
"One of the students said that not only had he discovered a wonderful healing tool but also he had found a new family. I feel the same way. [There were] wonderful conversations and bonding moments during meals and during practice sessions.

The faculty's teaching skills are superb. I feel it an honor and a privilege to be a part of such wonderful exciting education. This new field has such potential to ease human suffering in such a huge way. I am thrilled to be a part of such a spiritual and monumentally important learning field. I feel as though I am a pioneer woman of the 21st century.
 
It was worth all the pain and suffering that I went through so that I could discover how powerful Clinical Somatics really is. I only hope that I can master and live up to this great calling - to ease suffering in the world and to promote health, healing and a sense of well being to millions."